*THIS REVIEW IS SPOILER FREE*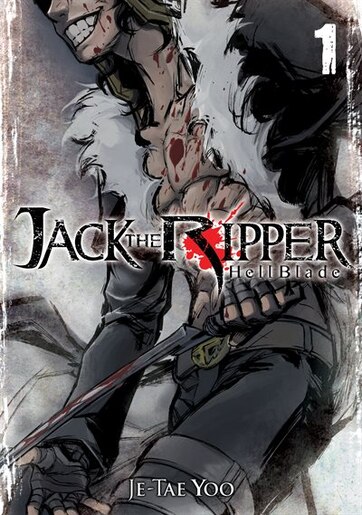 Synopsis:
For fans of Hellsing and Berserk comes an all new ultra-violent supernatural manga series about history's most famous slasher, with a twist.
Jack the Ripper is not what he seems—but the truth may be more terrible than anyone imagined.
A young police detective from Scotland Yard struggles to unravel the mystery behind the brutal slayings that grip 19th Century London. What he learns will turn his world upside down, and pit him face to face against the Ripper himself. But is Jack his savior or destroyer?
With bold and graphic artwork in the vein of the classic vampire hunter manga series Hellsing, Jack the Ripper: Hellblade is a shocking and fascinating take on the world's most famous serial killer.
–Goodreads
Rating: 6/10 Unicorn Horns
I hate to admit it, but this one was a complete impulse buy. I saw the sale price, it's complete status (at only 5 volumes total), the cover that promised some horror, and so I totally ignored the screams of protest from my wallet. I've only read the 1st volume so far, but so far I don't regret my choice. The first volume has more than delivered on the expectation of violence and horror scenes, so I can safely say this isn't a read for people that are sensitive to either things. That said, the story telling and characters kind of failed to really grab my attention hence the rating.
The story doesn't take time getting to the murder and mayhem: beginning with a detective waking up from a secret affair, some parental/family abuse (trigger warning), and a murder scene – all within the first chapter – with the explicit action building from there. If it wasn't for the low price and 5 complete volume bait, I probably wouldn't have picked this up considering how overdone Jack the Ripper stories are, yet I still found the twist on the Jack the Ripper story pretty interesting.
Sadly, that was about all I could say that I like about the story so far. For one thing, I would never even think of comparing this to works like Hellsing and Berserk. If I had read that Goodreads synopsis before picking this up I would have been very, very, disappointed. I'm not at all bashing this story, but to be real it simply isn't even close to being on that level.
Another thing, dynamic, diverse, well-rounded, or even just plain likeable characters is something that makes a huge impact on how much I enjoy a story. It's the difference between me superficially enjoying a story, and engaging with it on a deeper level – actually remembering what it was about, for better or for worse, months/years later and having something substantial to say about it. While I'm assuming things go deeper into the mysteries brought up in this volume in later installments (my thoughts on it could definitely change later on), reading this volume was almost like playing a jack-in-the-box game with the main character(s?), which kind of killed my ability to really get into things. Again, this is likely just due to the nature of the story as a mystery thriller, so this volume was likely just an introduction the situation and setting, but with only 5 volumes I simply didn't expect that.
That said, it was still an okay start overall; nothing special but nothing terrible either. I am still looking forward to the sequel, seeing more of the main character(s?), and seeing where the storyline goes. I'd recommend this to anyone looking for an non-censored action packed thriller to kill some time (no pun intended).