Hey Fellow Bloggers! I'm finally back with book/manga reviews, and plan on re-visiting your blogs over the new few weeks. I will (hopefully) be back for a while 😅
*THIS REVIEW IS SPOILER FREE*
Synopsis: (I decided to write this myself, and have only included things that happen in the chapter long prequel for fellow spoiler haters)
In this world filled with demons, angels, vampires, and other supernatural beings, having romantic entanglements between races is considered a sin. One God punishes with a death bringing curse for their offspring. Main character Tsukimiya, being a half angel half vampire, is one of these forsaken beings searching for the only out God gave half breads. Drinking the blood of a pure demon before turning 18. Unfortunately for Tsukimiya, time is running out, and hunting pure blooded demons is no easy task. 
While on the tail of a man eating demon, she meets an angel named Hinata who is more than willing to team up with her to take the demon down. After finding him and engaging in a life risking battle they both manage to take down the demon. But before Tsukimiya can take his blood she is betrayed, and is helpless to do more than watch as Hinata, who turns out to be a fellow half demon, drinks the blood that is her only lifeline. Out of desperation Tsukimiya makes an unlikely attempt to rob Hinata of the blood he's just taken, though the result is unexpected. The curse gets split between the two, and now, short on time, they both have to find a way to survive.
Rating: 7/10 Unicorn Horns!
I read the first few volumes awhile back when I first bought it (about 4 years ago), but have been rereading some of the first series I picked up when I began collecting manga. Back then I was so excited I pretty much picked up anything with either a semi-interesting story-line, beautiful cover, or was on sale and with full colour front pictures (and, tbh, first encounter with manga eye candy)  this was no exception 
The prequel has a number of cringe worthy cliched scenes and dialogue, but that dies down by the first chapter. I never finished the series, but to be fare I do remember it picking up a lot with better writing, drawing, and plot in later volumes.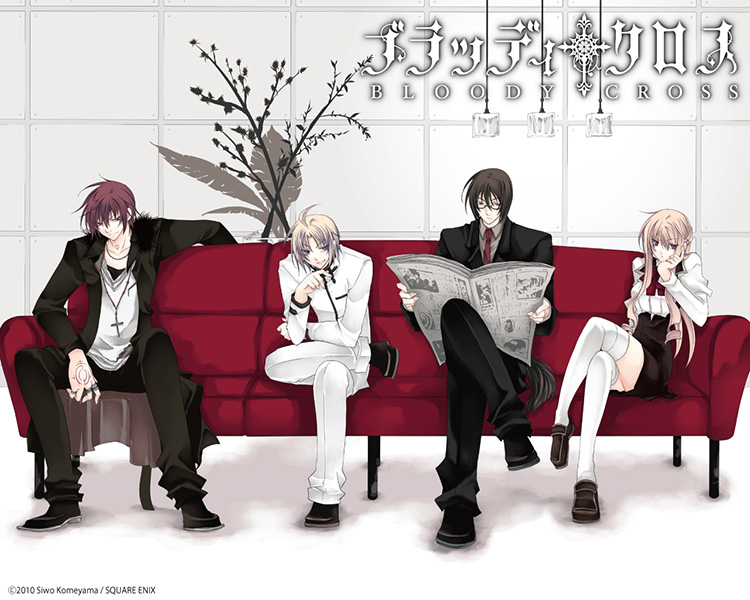 Anywho, the first volume was entertaining and despite the many cliches the story does throw in a a couple unexpected twists. It might not be the best thing to pick up if you're looking for something unique, but does the trick if you're looking for something fun to read that isn't completely predictable. It was filled with both humour (especially the banter between characters) and action. The artwork is fine, with some not so well drawn scenes/characters from time to time, but it does improve over time (…or I just got use to it lol). 
Aside from Hinata and Tsukimiya, the two leading main characters, there is also Tsuzuki (a pureblood angel- dressed in white in above pic) and Hanamura (reading the paper). The last two especially made the humour in the story, moreso in scenes involving all four of them. They are all characters that have been seen in some form in other manga and anime, but complement each other and with the humour, plotting, and array of supernatural abilities were still enjoyable overall. And the villains aren't much at first, but do get more interesting and complex (not so much there personalities, but with their scheming) later on.
So on a whole I'd recommend this one to teens and adults alike that are into common supernatural shonen/seinen manga or anime stories, and book lovers who are looking for something to pass the time and enjoy reading about angels, demons, and supernatural beings. As you could probably tell from the picture from the manga I included here, it does have a couple ecchi-like scenes, but don't worry (or get too excited) they don't get anymore explicit then that. So, aside from what I call "what-was-the-point-of-wearing-a-shirt" cleavage there isn't much fanservice (ex. panty shots, supernaturally overlarge breasts that giggle every time the wind blows, "accidental" oops-I-just-tripped groping, etc.). The story may not be the best out there, but I thought it was worth reading and don't regret buying it. 
Gotta say…for a manga without an adaptation it's got a lot of artbook worthy pictures 😍