*This Review is Spoiler Free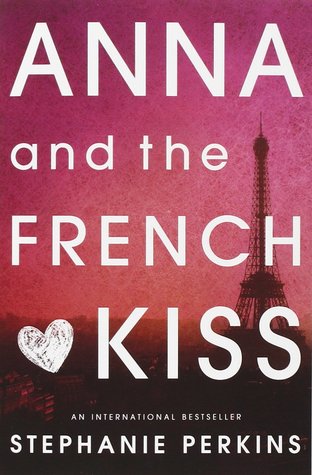 I have been aware of Anna and the French Kiss since 2012 when I first started watching Booktube videos. I can admit that I was incredibly uninterested in ever picking these novels up. There was way too much hype surrounding the books, everyone seemed to LOVE them, and I couldn't go onto any bookish social media without having them paraded in my face. Lo and Behold, I ended up picking up the series this year. I felt I was finally ready to give them a try because I wouldn't be going into reading this novel with overly high expectations due to the numerous recommendations I've received.  
Anna's famous Author father sends her from her family home in Atlanta to study abroad at the "School of America in Paris" (SOAP) for her Senior year of High School. Anna is devastated that she will be away from her best friend, Bridgette and Toph, the guy she has a crush on and finally got to kiss before leaving Atlanta. Anna resigns herself to communicating via email with the friend and crush she left behind, but finds herself having a hard time and breaks down on her first night at SOAP. Anna is eventually fortunate to find herself a group of friends and even a best friend in the charismatic and charming, Etienne St. Clair. As the school year progresses Anna feels that her friendship with Etienne could possibly evolve into something more than platonic. Problem is, Etienne in already in a relationship with his girlfriend Ellie.  
I will preface the 'meat' of this review by saying that I didn't absolutely hate the story, but I for sure was not in love with it by any stretch of the imagination. Honestly, if I had read this novel when I had been younger I may have enjoyed it much more than I did. It is difficult to overlook the blatant emotional cheating that occurs during the story and the incredible display of double standards. The writing is very easy to read and the story has a consistent flow. The story is not disjointed until the end where certain issues that cause a certain level of conflict are not resolved in a realistic manner. Due to the fact that this story is a YA romance/contemporary fiction there is a certain level of teen angst that is to be expected; however, there are areas where it is difficult to relate to and/or understand Anna's train of thought in regards to her "friendship" with Etienne and also with her bestfriend Bridgette from Atlanta. There is a well balance cast of side characters, some of whom the reader will get to see in subsequent books. For the most part the secondary characters were well developed and didn't seem to be there just to take up space on the page. 
Overall I was underwhelmed with the story and with Anna as a character. She was wishy-washy and had a separate set of rules for herself than she did for others. Anna was fairly self-absorbed while managing to not have a very great level of self-awareness and not know what it is that she wants. I would recommend this novel to people who love YA romance reads and that would not be put-off by having a storyline that uses cheating to drive the plot forward and/or a main protagonist that is emotionally unreliable and unsure of themselves in an off-putting way. I give Anna and the French Kiss a rating of 3.5 out of a possible 10 Unicorn Horns. Happy Reading!