This Review is Spoiler Free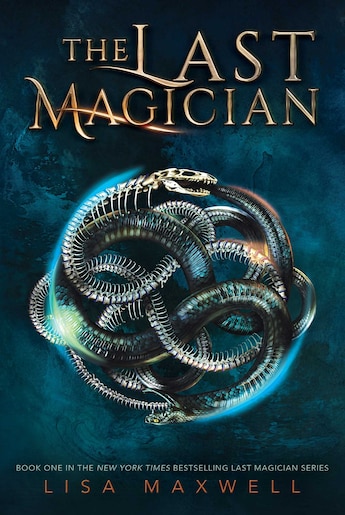 I struggled for some time trying to think of the best way to form my thoughts on this book into something coherent, and not just a paragraph of gushing. Then I came across this gif:
And this one:
Both of which chronologically summarize my feelings about this book perfectly! But of course, I can't actually leave my review at that…no matter how tempted I am. I will say that most of my love of this book comes from the fact that I honestly missed hearing about it. I've seen the cover pop up here and there, but otherwise have heard almost nothing, so was expecting nothing. I've been feeling a bit sick of teen fiction (not including manga) for awhile now, so it was only the title and coverlust that drew me into hesitantly picking this up.
Synopsis: Using second person narration with multiple POV's, Maxwell begins this story with a small group of mageus, lead by Prof. Lachlan, working together against their ancient nemesis, the Order, in modern day New York. Things sound pretty rudimentary at first, a group of supernaturally gifted people fighting against a group of religious fanatics trying to wipe them out, but there are a few catches. The major one being the terror of a deadly trap called the Brink, and Esta, raised and trained by Prof. Lachlan to take down the Order. She is also an amazingly talented pick-pocketing, lock picking, time-travelling thief. And it is these skills that get her sent back to 1902 in New York on a lone mission to steal a book- the Ars Arcana- that may finally lead to their freedom.
Rating: 9/10 Unicorn Horns!
This rich story-line, set primarily in 1902, was nothing to sneeze at. In addition to the gripping scenes of the magic welding mageus hiding, outwitting, and fighting the Order (who are at the beginning of forming a curious mix of alchemy and emerging technology), there was also the terror of the Brink to contend with. Many mageus travelled to New York due to rumours of a better life only to find that once they enter the city they cannot leave. Well, at least not without being stripped of their powers and dying in agony, or facing a lifetime of severe mental/emotional instability if they survived the mysterious force field surrounding the city. The effects the terror of this trap and the raids by the Order had on the mageus living in New York was amazingly well written, and just one of the many things that made me devour this book. 
It is this terror that the group main character Esta grew up in, and the street gang leader Dolph are fighting to destroy. Esta's mission is to meet up with Dolph, the well-known leader of one of the bigger mageus gangs in New York's 1902 underbelly, infiltrate his crew and prevent someone called The Magician from making the Ars Arcana disappear from history. It was the characters in 1902 that I fell in love with. Esta is a very strong young woman who's resilient character I admired. Dolph, his crew, and The Magician himself are all complex characters with beautifully conflicting values and resulting contradictory actions. I loved that the gritty reality of the situation the mageus were faced with was actually reflected in the hard choices many of the characters struggled with. 
Though this book did still have some of the elements I've grown tired of in teen fiction, a few overly common troupes, those things weren't so overbearing that they felt like they robbed the story of worth. I didn't give this book a full 10/10 because in addition to that, part-way through the book things started feeling a bit dragged out. This wasn't done enough to take off a full point, especially considering all those twists, turns, and bomb dropping towards the end.
Maxwell took some of my most loved themes, a historical setting rife with realistic social problems and strong characterization, then wove it into a beautifully entertaining story. I definitely recommend this one to all!