*This Review is Spoiler Free*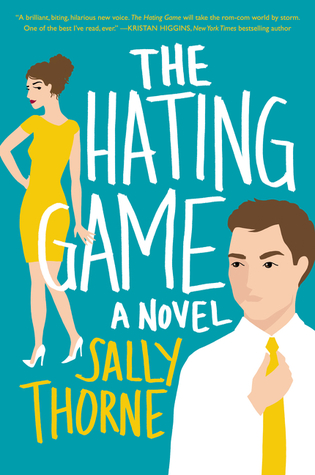 Lucy Hutton hates her co-worker Joshua Templeman, with a capital H. The hate is mutual and the two stop at no lengths to make sure the other never forgets. Lucy and Josh are the executive assistants of the Co-CEOs of a publishing company. When the new executive position of chief operating officer is created by their bosses Helene and Mr. Bexley, both Lucy and Josh are determined to win, because how could either of them bear to work beneath the other. Thus begins a story that reminds us just how thin the line between love and hate truly is. As Lucy begins to realize that they may not harbor as much unadulterated hatred for each other as she once believed they did. 
I have been hearing about The Hating Game for a few months now and I never foresaw myself ever giving it a read because I'm not the biggest fan of adult contemporaries. I finally decided to give it a chance because, 1) I had heard such great things about the novel from Chelsea from ChelseaDolling Reads on BookTube (you should totally check her out) and, 2) It was available in ebook format at the library on a day when I wasn't interested in reading the physical book I had brought with me to work. Lol, I feel like every "how I ended up reading this book"  story involving a book I wouldn't normal read has some mention of the library. What can I say…I'm a mood reader lol.
One of the sources of my greatest trepidation going into this story is because the novel is presented as an enemies-to-lovers, office romance. When it comes to literary tropes, the 'enemies-to-lovers' is one of the least enjoyable for me to read because it plagues sooooo many contemporary/romance/new adult novels. So, needless to say, I wasn't expecting much better from The Hating Game. The story surprised me, or I should say, how much I ended up enjoying it surprised me. The dynamic between Lucy and Josh is golden. Granted there are moments where I had to roll my eyes, muttering "How did you not foresee 'that' getting lost in translation." Also, there's another trope that's in this novel that if it wouldn't be a spoiler I would mention, but spoilers are a thing, and the rest of the story makes up for it. 
The Hating Game is incredibly funny, witty and smart. It was fun reading a story that is largely set at a publishing company. Lucy is a reader, has a large smurf collection and grew up on a strawberry farm. She's a dynamic, layered quirky female character without the author dragging her into "manic-pixie dream girl" territory…which I greatly appreciated. Josh is a smart, difficult, and uncompromising love interest. He's a great character to be opposite Lucy and their characters complement each other in numerous ways. The two are able to challenge each other and bicker in the most entertaining ways. Although Lucy and Josh have spent so much time hating each other, their descent into their romantic feelings for each other is believable. I give this novel a rating of 7-out of-10 unicorn horns. Although this is Sally Green's debut novel, it feels that the novel accomplishes what it set out to do, and that comes through during the reading experience.