THANK YOU SO MUCH! I was tagged to do The TBR Tag  by James J. Cudney at the This Is My Truth Now Blog! If you haven't gotten a chance to read their post for this tag, you can read it here.
How do you keep track of your TBR pile?
Welllll…..I don't really have a traditional TBR, I think the method that I use most often would be Goodreads' "Want To Read" shelf, but that honestly isn't very accurate. Because I don't reference that list of books very often. A lot of the things I want to read I just "remember" that I'd like to read them in the future. I have all those years of pre-Goodreads reading and TBRs to thank for that lol.
Is your TBR mostly print or e-book?
My TBR is mostly print books as that is my preferred method of reading books.
How do you determine which book 
from your TBR to read next?
I'm very much a mood reader. So, I don't have a system for picking which TBR book I'd like to read next. I don't utilize a TBR in the typical sense….I just happen to have a bunch of books that I own or that I've heard of that I would like to read. But I don't allow those books to dictate what I will read next or in the next few years. I leave my reading options very open. 
A book that's been on your TBR the longest.
The first book I ever shelved as "Want to Read" on Goodreads is Divided (Darkest Powers #1.5). Divided is a novella from the Darkest Powers Trilogy by Kelley Armstrong. 
A book that you recently added to your TBR.
The most recent addition to my TBR on Goodreads is Wake of Vultures (The Shadow #1) . I'm excited to get around to reading this series next year as the third and final (as far as I know) book was published this year.
A book on your TBR strictly 
because of its beautiful cover.
The Girl Who Circumnavigated Fairyland in a Ship of Her Own Making and the entire Fairyland series as a whole. Unfortunately, I've come to realize that I'll probably never read these books and I recently unhauled them and a few days later put them back on my shelves because they're too beautiful to part with. So, clearly these books are sticking around for merely their aesthetic merit.  
A book on your TBR that you 
NEVER plan on actually reading. 
Okay, so I have a love/hate relationship with Abbi Glines' books and I pretty much hate read her Rosemary Beach series. Since, putting myself through that torturous experience I have gotten a lot better with my "need" to complete a series, regardless of whether I am enjoying it or not. So, the book that is currently shelved as "Want to Read" on Goodreads that I'll NEVER read is Up in Flames (Rosemary Beach #13).
An unpublished book on your 
TBR that you're excited for.
A book on your TBR that basically 
everyone has read except you.
The Eye of the World by Robert Jordan
A book on your TBR that everyone recommends to you. 
The Name of the Wind by Patrick Rothfuss
A book on your TBR that you're just dying to read. 
Nevernight by Jay Kristoff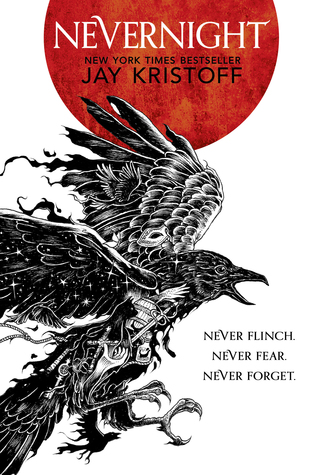 The number of books on your Goodreads TBR shelf. 
Okay, this number is so ridiculous that I feel an obligation to preface the "big reveal" with an explanation. So, a few months back I got the brilliant idea to scan into Goodreads all the books I owned. I have been wanting to add all the books I own to Goodreads ever since I joined. I have always wanted to have somewhere where I could keep track of the books I own and very easily be able to reference the exact number. Well, little did I realize, until I was over three quarters of the way through scanning all the books with my phone, that Goodreads automatically shelves all the books you've scanned into your "Want To Read" Shelf…so yeah we ended up with this number: 1045, as of today.

Tag, you're it!!!
Also, anyone who would like to do this Tag, but hasn't been officially tagged yet….go for it!