*This Review is Spoiler Free*
This post is going to be a bit different from my usual style and content, as I've finally- for those that have been suggesting it for quite some *cough*– decided to also write a little on anime. Now this doesn't mean I'm turning this into an anime site, I'll still be doing the regular bi-weekly book review posts (excusing times where things get busy and there isn't any *ahem*). This just means I'll occasionally be doing an extra post here and there on anime, or something like this one- where it's mainly a manga review, but I add in some of my thoughts on the anime adaption if I've watched it. 
Last year I decided to go outside of my comfort zone with anime and tried out a few shows in the Slice of Life genre (similar to but not quite contemporary for those of you who don't know). Some went more or less like I was expecting- I was bored out of my mind- but a few others were gems and made me change my mind about Slice of Life in general. Barakamon, not to be confused with Bakuman (am I the only one that did this?), was one of them.
Synopsis:
Barakamon follows the life of a 23-year-old professional calligrapher, Seishuu Handa, after he moves out to the booneys on a small island. The calligraphy bit got me interested, but so did his reason for moving in the first place: as a much needed getaway following a… let's call it "mishap" with the Exhibit Hall Director at a showing over some publicly dished out criticism.
Exhibit A: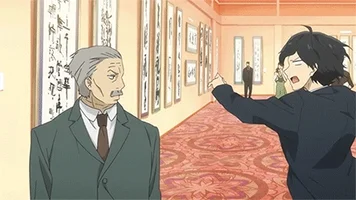 Naturally this all led to him having some…issues in his work and social life, so he readily agreed to being sent off to the middle of nowhere. But, of course, his hopes of getting some peace and quiet to focus on his work are quickly crushed by one trouble making first grader: Naru.
Exhibit B: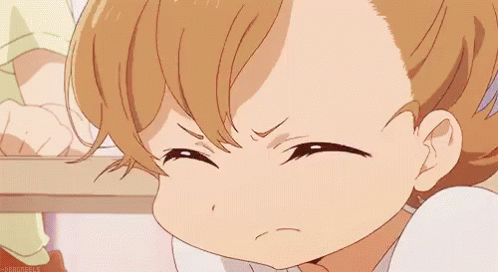 My Rating (for both): 9/10 Unicorn Horns!
The hilarious interactions between main characters Handa and little Naru are definitely the selling point of this series. I found myself bursting into laughter every chapter/story at their antics, the many resulting misunderstandings, and Handa's often immature reactions to Naru's actions and logic. The characters and humour are part of what made this series so enjoyable for me. Even the side characters that make small appearances had their place and made themselves memorable in some way. 
In the first volume, along with a handful of villagers, we only meet Naru, a couple of her classmates, the two middle schoolers Miwa and Tama, and high school senior Hiroshi. Things don't get too in-depth with them seeing as this is the first volume, save for maybe Hiroshi, but there is just enough to get a grasp on each character. I was taken back by how well Yoshino was able to make a cast of characters with such varying ages work. And equally surprised I didn't find the kids really annoying. Of course the anime goes further than what I've read, but I'm seriously looking forward to going through all the craziness again in later volumes (especially the bits when Tama's secret hobby and future dream come to light).
Then there's the out-of-nowhere-gut-punching (a.k.a metaphoric life messages that really hit home). They're nothing incredibly mind blowing, just some words about everyday life and hurtles most (meaning me) have forgotten had such simple answers somewhere along the way. Naru and Hiroshi did this very well through their interactions with each other, often giving insightful advice and encouragement just by being themselves. Coupled with the humour this made it become a solid and unforgettable series for me, which was unexpected considering my strong preference for an overarching plot. 
Since this story takes place on a remote island, the inhabitants actually speak a different dialect (Kansai dialect). In the manga the translator used an old country sounding accent for all the characters living on the Island to represent this, save city raised Handa of course. While the anime does the same, reading it in the manga was a slightly different experience. This wasn't a negative thing, just took some getting use to. 
The taste of small town life was another surprising enjoyment, and actually made me want to give it a try sometime. That and of course my introduction to the world of professional calligraphy. Naturally I won't be taking this as a how-to-guide, but it did get me thinking, and also broaden my world by making me stop and really take it in as an art form. Especially a particular scene in the anime…which I can't actually show cause it would definitely count as a spoiler. 
(Poor) Non-spoiler substitute: 
Lastly, I never say much about it in any of my reviews unless I found it mind-blowing, but will say I like the art style. It's good as far as I'm concerned and easy to follow, but noticeably changes (in a good way) from the first chapter to the last. 
I watched the anime a few months ago, and have only just read the first volume so can't compare them much without spoilers. But so far the adaptation did a very good job. I'd recommend checking out either one since the anime seems to have done a fairly good job at capturing the essence of the manga, and the characters in it. Both were hilarious, charming, and overall very enjoyable.
Find it On:
Stream/Buy the Anime On:
Buy the Manga At:
Indigo/Chapters;  Amazon;  Barnes & Noble;  Right Stuff Anime