*This Review is Spoiler Free*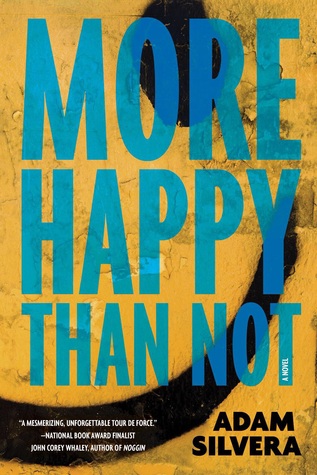 Aaron Sato, lives in the Bronx with his mother and older brother, he also has a loving girlfriend and friends in his complex. Thomas, enters Aaron's life through the most mundane circumstances and the two quickly become close friends. As Aaron finds himself drawn more to Thomas, he discovers that his feelings for his newest friend aren't strictly platonic. As others in the area, and his so-called friends, begin to notice the shift in the chemistry between Aaron and Thomas it becomes a problem. Due to the ignorance and hate filled experiences that Aaron is faced to endure he turns to the Leteo Institute to hopefully be able to undergo a memory-relief procedure and be able to forget his gay feelings.
Let me try to not have two word-vomit laden reviews in one week. Where Tuesday's review was a frustrated rant, this review may well turn into an unabashed gush fest lol. The story is set in the not-so distant future where a facility called The Leteo Institute exists and performs a memory overhaul procedure. Leteo is able to remove unwanted memories and thoughts. Although this sci-fi element is very much present throughout the story it absolutely does not detract from the story. I half-expected for this aspect of the story to feel forced and arbitrary, but that wasn't the case. The Leteo Institute and the procedure serve a purpose and lend themselves very well to the tone of the novel. More Happy Than Not, for a large part, is a story about being in a place where you aren't allowed to safely be you, a place where you don't want to be yourself, and what you would do if there was an option to change the things that have been deemed unacceptable about you.

It is widely known that Adam Silvera's books don't have happy endings. They don't have the endings that you root for while you're reading the story, but they are able to make you think, and they're not 'sad' just for the sake of being tragic. This story is absolutely not "tragedy porn". More Happy Than Not is an authentic, real, believably heart-wrenching story. Interesting, complex, well-developed characters enrich this novel and honest conflicts arise for many of them. Conflicts that explore the age old debate of nature vs. nurture, that delve into identity and show complicated family dynamics. Although Aaron's developing romantic feelings for Thomas are a catalyst for many events in this story, it isn't the dynamic of their relationship that stands out most. The friendship that blossoms between them provides a space where they both can talk about the uncomfortable things, the things that they aren't otherwise supposed to bring attention to.

More Happy Than Not is a great novel with features racially and sexually diverse main characters. The characters are multi-dimensional and there's a complexity and often times duality within each character. The plot is well executed and the conclusion leaves you wanting more. The ending is somewhat open-ended, but it feels methodical and adds another layer to the conclusion of the novel. I would recommend this novel to any reader that is looking for own-voices lgbtqia+ contemporary fiction. I rate More Happy Than Not 8.5/10 Unicorn Horns! Happy Reading!