*This Review is Spoiler Free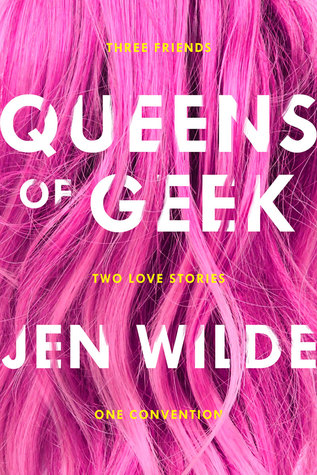 During the month of June I read exclusively LGBTQIA+ books in celebration of Pride Month. I aimed to read as much own-voices fiction as possible, and in my search, it did not take too long to come across Queens of Geek, especially considering that it was a fairly new release. I was immediately drawn to the premise because felt like this story would be a romp of fun and celebrate fandom. The premise promised many different points of interest and definitely did not disappoint.  
Queens of Geek, follows a group of three friends who have journeyed from Australia to San Diego to attend SupaCon in celebration of one of them making their film acting debut. The story is told in alternating POV between Charlie, a Chinese-Austarlian, Bi-sexual female YouTube star who has made a cross-over to film and, Taylor, a plus-sized cosplayer, who's got anxiety and autism spectrum disorder, romantic feelings for one of her best friends Jamie, and has a Tumblr following to be jealous over. I appreciated going into this reading experience knowing very little about the story besides the information I provided above, so I will not delve any further into the plot to provide a more detailed synopsis.  
Queens of Geek was an incredibly fun read. There is so much within this story for readers to nerd-out over. The story feels a bit rushed towards the last quarter of the novel; however, I didn't mind the change in pace too much as it actually adds a sense of authenticity to the atmosphere of the book. Anyone who has ever attended any sort of Con (books, comics, movie, fandom, cosplay) knows that the experience is incredibly fast paced and rushed. There is an overload of events, signings, panels etc, and the book delivers in giving you a feel of that.